Pink Hair Ideas
13th Jul 2023
Who Doesn't Love Pink Hair?
Did you know…Pink is best known for being the easiest to remove if you want to switch up your look more often, so it's perfect for doing at home.

"Shades of pink are the best for both in-salon and at home use, because they wash out completely; no need to worry about unwanted staining."
Sophia Hilton, Crazy Color Brand Ambassador

Our range of semi-permanent pink hair dye has a shade to compliment every look and style, whether you want to go pastel pink or bright pink. Shop the range now.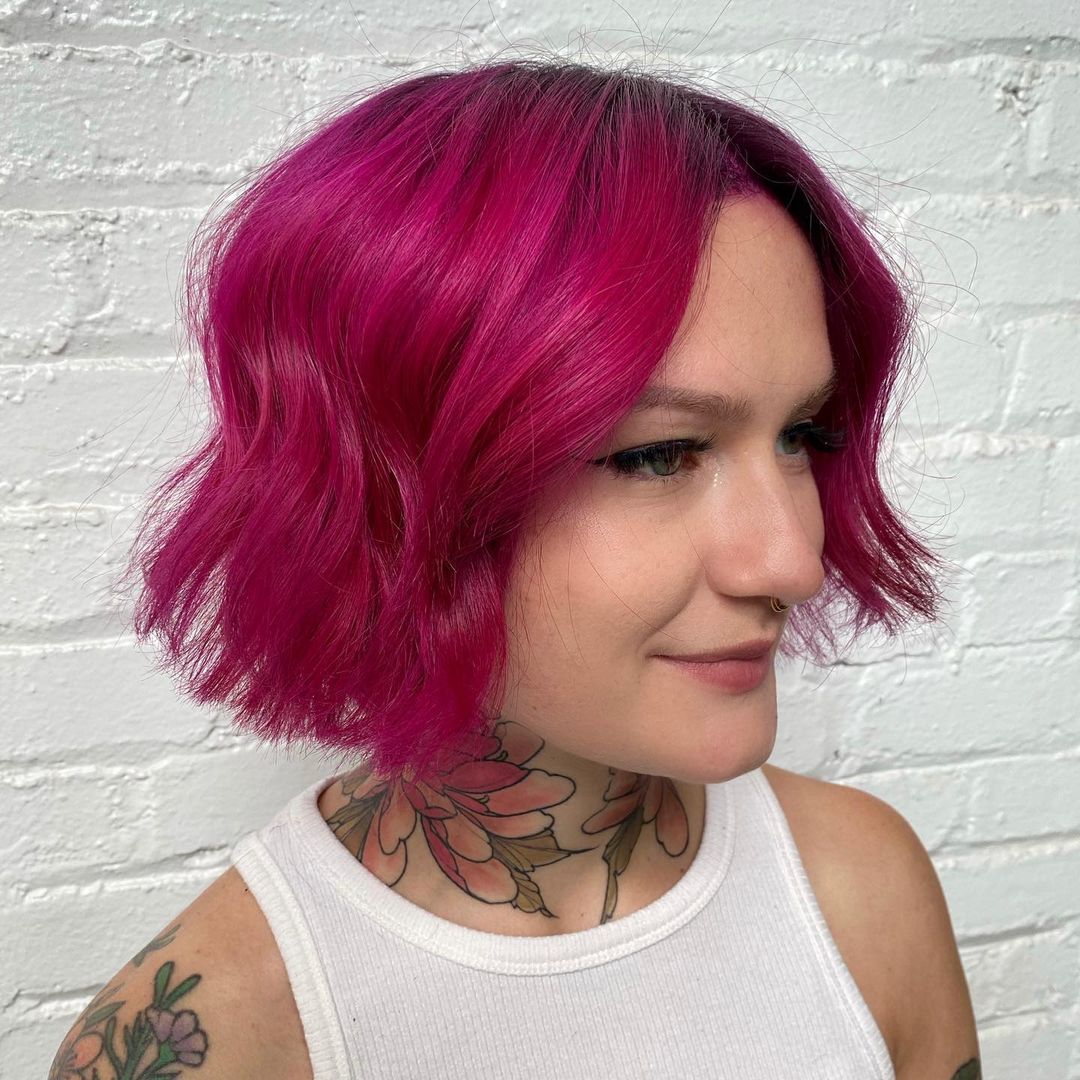 Pretty Pastel Pink
From Madonna to Anne-Marie, we've got quite the list of celebs that rock the Crazy Color baby pink look. To get this look this we recommend using the shade Candy Floss from our Semi Permanent range – that's what Madonna uses after all! We'd all love to have this lush pink vibe but before you embark on this journey, let's talk about hair prep.
There's no doubt pastel pink hair is one of the prettiest colors you can go, and one of the easier to apply all over at home with minimal staining, but for optimum results we need to start with the best possible base hair color. The best hair color to go pastel with is platinum/white blonde. If you're light brown to dark brown you will probably need to undergo some lightening before you can fulfill your perfect pastel dreams. For this we recommend trying Crazy Color Bleaching Kit, this is a great at home solution for lightening your hair. (We recommend consulting a professional before use because they'll know what's best for the health of your hair depending on your base color).
If you've got light blonde highlights or a balayage then you'll be able to pull off the touch of pink look as the shade will deposit color to these areas of your hair whilst leaving the rest its natural shade.
Looking for pastel purple? Marshmallow should be your go to! (PS for this shade, please follow all advice above).
Bright & Bold Pink
If you really want to turn heads with your pink look then we've got you covered! The most head turning pink in the Crazy Color range has got to be Rebel UV – not only does this scream in the daylight, and glow under UV…you'll be the talk of the party with this look!
Looking for something a little less UV? Pinkissimo is our go to color for that bright pink look we're all looking for. An added bonus of using Pinkissimo is that you get the best of both worlds, super bright pink followed by a pastel pink as the color fades!
With shades like Pinkissimo and Rebel UV we recommend light blonde hair for optimum results but there will be noticeable tonal effect on darker shades of blonde to light brown.
Dark & Stormy Pink
From professional hair stylists to at home users, everyone loves Crazy Color Cyclamen for that rich pink look. This shade is the best for people who don't want to bleach their hair to see results.
Our Crazy Color brand ambassador, Sophia Hilton, says:
"Crazy Color's Cyclamen is great for those who want the pink look, but don't want a full scalp bleach first. What's special about Cyclamen is that it works over hair tones that are as dark as a dark blonde to light brunette, and still comes through with that pop of vibrant color!"
Using Cyclamen over the hair will give you that tonal, look twice type of look on a darker base whilst on light blondes you'll get a deeper pink than Pinkissimo.
Make Your Own Custom Pink Shade
At Crazy Color we love to see people experiment with our color and come up with their own unique shade. It's easy to do with our range of colors!
"My favourite Crazy Color pink shades are Rebel UV and Cyclamen. I love mixing Rebel UV with a few dots of Cyclamen. I like the vibrancy and UV activation of Rebel UV and the depth of Cyclamen."
- Crazy Color sponsored stylist, Mikey Ferrer Jr
You've got the POWER…we're passing over all control to you with this one. Our POWER pigment Drops are perfect for personalising your shade, just add a few (and we only mean a few) into your Crazy Color Rainbow conditioner to make a custom pink shade!
Top tip: if you want to add depth to your pink shade add some Crazy Color Black.
Looking For A Quick Change?
If you fancy only taking a quick trip to the pink side then check out Crazy Color Marshmallow Pastel Spray for a quick and fun change. It's perfect for festival season and trialing pink hair before you make that further commitment! Our Pastel Sprays last 1-3 washes and give that instant pop of color. All you've got to do is spray it on your hair and blow dry it in to lock in the color.
Going pink has never been more on trend, so why not give it a go!? It's the best color for dipping your toe into the world of vivid hair color without too much commitment, and you'll look amazing while you do it!
Check out our full range of Pink Semi Permanent Hair Color today!
Make sure to follow us on social media for hair inspiration @crazycolorltd